His Music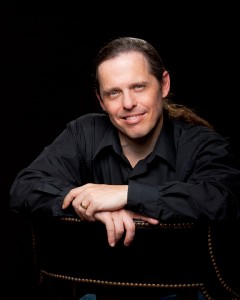 The stories behind Jeff Bjorck's solo piano creations are frequently personal, often nostalgic, and always true. Below, you can learn about the development and history regarding each of his six CD projects, which span almost twenty years. Jeff's original compositions predominate on the first three CDs. On his fourth and fifth CD, Bjorck brought his unique approach to arrangements of classic hymns and carols, respectively. Most recently, his sixth CD features a return to predominantly original compositions. "It's been quite an amazing and wonderful journey," Bjorck remarks, "and not one that I could have ever anticipated." Ever wonder what inspires a musician to compose a certain melody or arrange a particular classic? You can have those questions answered here. Read on!
KEEPSAKES IN THE ATTIC (2016)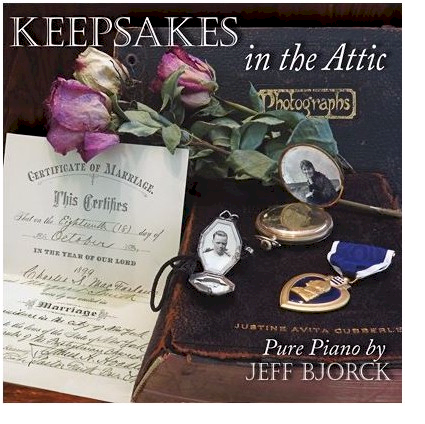 After focusing on arrangements of classic hymns and Christmas carols for his past two CDs, Jeff Bjorck has returned to his own musical palette. And this time, his original compositions are all deeply steeped in nostalgia and his love of yesteryear. The title of his sixth CD, Keepsakes in the Attic, is fitting. "Imagine spending an afternoon in a cluttered old attic, rummaging through various keepsakes belonging to you or your loved ones," he explains. "As you lift each one from its fragile wrappings, a flood of emotions floats up and fills the room with vibrant memories, drawing you back to those earlier times and places."
His song titles poignantly suggest encounters with beloved memorabilia such as Grandad's rocker, Nana's music box, and Mother's hymnal. "Some of these pieces, like 'Justine of County Clare,' are particularly sentimental for me," Bjorck remarks, noting that his grandmother, Justine Avita Mitchell, grew up in County Clare, Ireland, but died two years before he was born. "I never met her, but my mother told me stories about her mother's life before moving to America," he explains. "I grew up wishing I had known her." Another personal title for Jeff is "Playing Catch with Dad," a musical reflection of the times he tossed a baseball with his father in the street in front of their home. He remembers this as one of his favorite boyhood activities. In addition to his 12 original tunes, Bjorck presents his own arrangement of an old Swedish hymn that also reminds him of his early years.
For every selection on Keepsakes in the Attic, Bjorck taps into his love for iconic, turn-of-the-20th-century melodic structures, providing evocative, ardent strains that range from joyful to bittersweet. Jeff comments, "I truly hope this CD will create a heartfelt, musical space for my listeners, where they can reminisce about special times in their own lives."
For stories behind each piece, CLICK HERE.
To hear this CD, click here.
THE WONDROUS GIFT: A PURE PIANO CHRISTMAS (2010)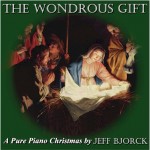 We all love the melodies of Christmas. With each passing year, however, the heartwarming sounds of our childhood carols are increasingly drowned out by the noise of cash registers and commercials. Each autumn the neon signs on every corner blinking "XMAS SALE!" seem switched on earlier than the year before—the meaning of Christmas relegated (again) to an even smaller space in society.
Jeff Bjorck's fifth Pure Piano CD, The Wondrous Gift, is his somewhat about-face response to these forward-marching materialistic trends. He takes you back to a simpler time, when the term "Merry Christmas" was still considered a warm greeting.
The classic carols featured on this CD will bring listeners floods of memories. As he did on his last CD, This I Know: Ageless Hymns of Faith, Jeff brings unique interpretative arrangements to each of the dozen selections while making sure to pay tribute to the original melodies. Although recorded in 2010, many of the selections he's been playing for years. Jeff loves them all, and each has story to tell. The sonic results provide listeners with music suitable for many occasions, from intimate holiday gatherings to Sunday morning preludes to personal times of nostalgic reflection.
Jeff's Pure Piano Music has been drawing avid listeners from around the world for the last 13 years, thanks to an Internet that makes music globally accessible. The Internet has also given Jeff ready access to his listeners, and before choosing the pieces for this CD, he polled them regarding their favorite carols. This collaborative effort resulted in a cross-section of carols for The Wondrous Gift truly loved by all who love Christmas as well as Jeff's music. "I'm very grateful for my listeners," Jeff says. "It's my heartfelt wish that this new music brings each one of them joy, nostalgia, and a reminder of Christmas' true meaning, both this year and for many years to come."
One particularly happy outcome was that Jeff's favorite carol, "O Holy Night," was the overwhelming favorite among those polled. Whereas many arrangements of this piece tend to transform it into a rousing anthem, Jeff's arrangement preserves the quiet peace and awe doubtless felt by Mary, Joseph, and the shepherds on that first Christmas Eve. Other selections, such as "Coventry Carol" create a space for sadness when loved ones are no longer present to celebrate Christmas with us. Still others, such as "O Come All Ye Faithful" and "Come, Thou Long-Expected Jesus," reflect the exuberant anticipation experienced by so many at this time of year.
The Wondrous Gift is sure to create a sense of wonder that echoes the angels' joyous proclamation that first Christmas: "Glory to God in the highest, and on earth peace, good will toward all."
To hear this CD, click here.
THIS I KNOW: AGELESS HYMNS OF FAITH (2007)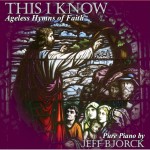 Jeff Bjorck grew up with the grand old hymns. They rang out from the record player and radio at home, and he sang them every week in church. His deep love for these classic melodies has inspired his fourth Pure Piano CD, This I Know: Ageless Hymns of Faith. With nine new hymn arrangements and six returning favorites, this CD features almost 75 minutes of Bjorck's interpretations of the music that helped to shape his faith in Christ. He states, "Each of these pieces is a personal favorite, anchored in rich history, relevant for today, and pointing me to a 'hope and a future' (Jeremiah 29:11)."
The re-released six tracks from earlier CDs were recorded between 1995 and 2005, as were "Tis So Sweet To Trust In Jesus," "It Is Well With My Soul," and "Jesus Loves Me." The remaining six new pieces were recorded in 2007.
This I Know provides more of Jeff's signature quiet music to calm the heart in a noisy world. A number of the arrangements can also be enjoyed with the volume turned up–way up–reflecting their heritage as rousing anthems. While developing these pieces, Jeff became aware of musical influences planted during his childhood that reemerged as he played. "Our church pianist was a student of Rudy Atwood, renowned accompanist for Charles E. Fuller's Old Fashioned Revival Hour radio broadcast. Mr. Atwood even came and played at our church once when I was a boy. As I composed these hymns, I was surprised to hear hints of his style in my own playing. It is no small coincidence that I would grow up to become a professor at the seminary founded by Charles Fuller. That's quite an interesting full circle!" Fittingly, this CD is being released in the very same year that Fuller Seminary celebrates its 60th birthday.
Although Jeff acknowledges the influence of old-time religion, the arrangements on This I Know represent a fresh approach to these classic hymns. In fact, some hymn lovers may be challenged to recognize all fifteen pieces in their current forms, each of which present variations of the original themes. Bjorck insists, however, that "While I play these arrangements, I hear the old hymns clearly…at least in my head!"
Whereas most hymns are typically associated with the authors who penned their lyrics, the composers of the melodies are generally less well known. With this in mind, Jeff views this CD as a tribute, first and foremost, to the composers. "Although I know at least some lyrics to all of these hymns, it is their melodies that are indelibly carved in my consciousness. I would not be surprised if the same were true for many listeners!"
To hear this CD, click here.
IMPRESSIONS IN BLACK AND WHITE (2005)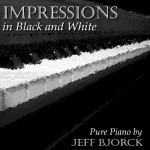 Impressions in Black and White is Jeff's third Pure Piano release. Nature inspired his first two CDs, reflected in the vivid photos gracing their covers. In contrast, this third effort's compositions sprang primarily from Jeff's imagination, and the CD cover reflects this change. He digitally created the impressionist piano image in black and white, but he insists that "the music is always in full color!"
Recorded primarily in 2004, these eleven pieces were composed over the past four years with two exceptions: All "I See Is Air" (1977) and "Return To Catskill Meadow" (1998). Played softly, Impressions presents fresh "quiet music to calm the heart in a noisy world." Many pieces on this new disc are more vibrant, however, and the listener is encouraged to turn up the volume on occasion for optimal enjoyment! Jeff notes, "I hope that these Impressions will give my listeners the emotional, classically styled music they have come to expect, while gently introducing them to my more energetic side!"
Many listeners asked for more background for Jeff's compositions, so on this CD, he complies. In fact, Bjorck encourages the listener to read the liner notes, containing the stories behind each piece, before and/or during listening.
To hear this CD, click here.
PURE PIANO PANORAMAS (2000)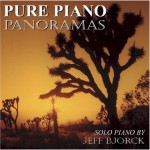 Jeff Bjorck's second CD, Pure Piano Panoramas begins where his debut project Pure Piano Portraits ends. Many pieces on Jeff Bjorck's first CD reflect his love for the Appalachian woods and Catskill Mountains of his youth. Now, having lived the last decade in Southern California, he has turned to the desert and chaparral for inspiration. From the Joshua Trees of the Mojave Desert (portrayed on the CD cover) to towering thunderclouds hovering above parched earth, Jeff's new songs take the listener on a panoramic tour.
These new pieces were all recorded in 2000. Most were composed over the previous four years, with two exceptions: "Day Without A Sun" was created in 1977, the year that Jeff lost his only uncle to cancer; "Your Love Has Made Me Fly "is a 1986 tribute to Sharon, Jeff's wife (and best friend) of ten years. Their first joint effort at songwriting, "Sculptor of the Sky", reflects their shared amazement with the beauty of clouds. Several other pieces also convey personal themes. Jeff honors his grandmother, who almost lived to see her hundredth birthday and a new millennium, with "Remembering Grandma". An avid hang glider pilot, Jeff's love of flight is manifested in "Soaring Mesa Cliffs", which beckons the listener to rise high above the mundane into clear, stark, silent skies.
As he does on his first CD, here Jeff surrounds his own compositions with original arrangements of two traditional hymns. He explains, "Holy, Holy, Holy" has long been a favorite, and it served as Sharon's and my wedding processional, so it is particularly special. "As for O, The Deep, Deep Love of Jesus", I am continually overwhelmed by God's love, and this hymn expresses my sentiments well."
Jeff describes his compositions as "quiet music to calm the heart in a noisy world." His first CD has provided reassuring focus for mothers in delivery, peaceful rest when insomnia comes knocking, and elegant ambiance at intimate wedding receptions and dinner parties. He remarks, "It is my hope that Pure Piano Panoramas will bring my listeners more of what they enjoy, emotional music with a classical feel that lifts them from the rat race and gently sets them down in a restful place, as far away from everyday chaos as possible."
To hear this CD, click here.
PURE PIANO PORTRAITS (1997)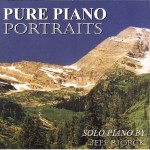 Since its release date several years ago, Jeff Bjorck's debut CD, Pure Piano Portraits, continues to be a top seller at Amazon.com's Indie Music-New Age-Piano section.  It has also received airplay on select radio programs across the country and continues to do so.
As Jeff's first effort, Pure Piano Portraits features compositions from a wide variety of points along his personal time line. The included selections were all recorded between 1993 and 1995, but their creation spans twenty years.  For example, both Can't Say How I Feel and Catskill Mountain Meadow were originally composed in 1977.
Many of the pieces on Portraits emerged in rough form during his days in graduate school, where a baby grand piano in the dormitory across from his office at the University of Delaware provided many welcome study breaks. On one such occasion in 1985, given his preference for spontaneous composition, Jeff brought an inexpensive cassette tape recorder with him. His plan was to "catch anything good that accidentally occurred." The recorder was simply plopped on a pillow on the floor near the piano.
Given the cheap equipment (!), the surprisingly good fidelity of the recordings startled Jeff, and he risked playing his tapes for some friends. It was then that people first mistakenly mistook his music for George Winston's. There are still a few people who are the (proud?) owners of copies of those early tapes!
Formal recording of his earlier work did not begin until 1995, when as part of a small church with many musicians, Jeff was invited to contribute a track to a promotional tape.  It was then that he first entered a studio and recorded Living Waters, with much help and moral support from friend and engineer/producer Bill Pearson of Mindseye Productions.
Having experienced the recording studio, Jeff was bitten  by the "red light fever" bug, and the idea of recording more of his compositions "for friends and family" inspired him to polish up many of the pieces he had composed since his early teens.  Once again with the invaluable assistance of Bill Pearson, Jeff returned to the studio and recorded a variety of works, including each track found on Pure Piano Portraits.
Serendipity does not stop there. Through the continued help of Mr. Pearson, Jeff's music was "discovered" by Gene Michael Productions, a music library whose owner Gene Ort offered to purchase the commercial rights to Jeff's music. Thus, with no promotional effort or legwork of any kind on Jeff's part, the commercially licensable CD, Piano Portraits AV147 was born. (Since then, Panoramas is similarly available as Desert Sky AV231.)
When friends heard this commercial CD, the frequent response was "I'd love a copy of that!"  Unfortunately, the required "license" fee to obtain a copy was considerably more than what one pays for the typical CD. Thus, Jeff returned to Gene  Ort and requested permission to re-release his music as a retail CD. Gene graciously agreed, and Jeff proceeded to create Pure Piano Portraits.
Jeff comments, "Making a CD was the ideal project for me, because it allowed me to enjoy a variety of my artistic interests all at once. Where else can you pursue  graphic design, photography, poetry, creative writing, and music composition, performance, and production….all in the space of a 5.5 inch square?"
The road to producing Pure Piano Portraits was a long and circuitous one, and Jeff clearly sees God's hand in it all. "I am thankful to my listeners who have graciously given me the chance to share my music,  and I thank God for making it possible."
To hear this CD, click here.